Double Row Terminal Blocks
General Information
Double Row Terminal Blocks are available in many line-to-line spacings. Open and closed back designs are available as shown in the table below. Insulator bases are avaiable in both phenolic and thermoplastic material. Each series has many hardware and marking options available.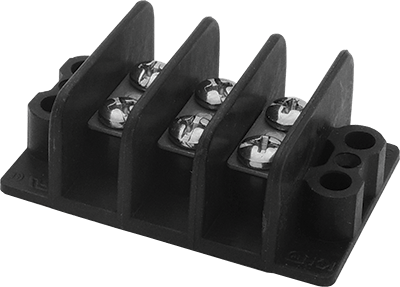 621 RZ 03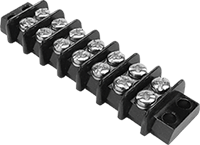 600 GP 07 PSB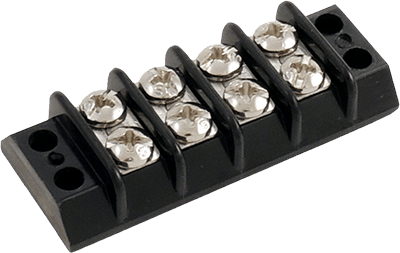 670A GP 04
*Open back terminal blocks require an insulator strip to achieve voltage rating.
**Wire Range for Bare (unprepared) only. Prepared wire range (used with crimp type ring, fork or spade terminals) is dependent on the size of the crimp terminal applied and must not exceed the Amp rating specified.
Ratings and Standards
The voltage ratings of terminal blocks are based upon the minimum spacing between electrically conductive parts line-to-line through air and over surface and line-to-ground through air and over surface.
Class A - Service, including deadfront switchboards, panel boards and service entrance devices.
Class B - Commercial appliances including business equipment and electronic data processing equipment.
Class C - Industrial, general
Spacing Requirements (in inches)
Voltage
Through Air
Over Surface
Class A
51-150
0.500
0.750
151-300
0.750
1.250
301-600
1.000
2.000
Class B
51-150
0.063
0.063
151-300
0.094
0.094
301-600
0.375
0.500
Class C
51-150
0.125
0.250
151-300
0.250
0.375
301-600
0.375
0.500